Truc Lam Village located in the west of Hue citadel is not only famous for its bamboo but also for the longevity of hundreds of its residents most of whom are over 70 years old.
Phan Quyen, 93, can still read newspapers and messages without wearing glasses.
Ten years ago, two former residents of this village who lived elsewhere invited all residents to hold a village festival. A 75 year old man, thinking himself to be the oldest village resident broke into a song for the villagers as a token of love. However, he was surprised to learn that gathered before him were many who were well over 90 years of age.
The village Elderly Association currently has 242 members. Most are over 70 years old, about 50 are over 80, 15 are over 90 and three are over 100 years of age. All members remain active, regularly participating in community activities such as traditional dances and physical exercises. The youngest man is 62 years old but he hardly ever joins activities in the association. He thinks that he is still too young compared to other members. Tran Lu, over 83 years old and Tran Tuyen, 77 were elected as chiefs of the association because both were younger and stronger than other older men.
The oldest person in the village is Nguyen Thi Chut, who at 108 lives alone in a church and takes care of herself.
Mr. Phan Huong at 100 still goes everywhere and meets friends around the village. His neighbours Mr. Vo Tham, 99 and his wife Tran Thi Be, 97 are often seen sitting in front of their house on the veranda, talking together. The couple got married when Be was 19 years old. They have lived together for 70 years. They worked hard but they have never been treated in a hospital. Their eyes reflect joy and laughter.
Another elderly couple, Phan Quyen, 93 and his wife, 90 still tend to their garden and lay out corn to dry in the sun everyday. They were delighted to show us around their house. Phan Quyen commented that old age had weakened his hearing but his eyesight was still good and he could help his children with the housework. His eyes glowed with happiness when talking about his descendants and his big family.
Key to longevity
According to the chairman of the association, residents in this village lived longer because they ate fresh vegetables, lived in a clean environment, breathed fresh unpolluted air and always thought positively.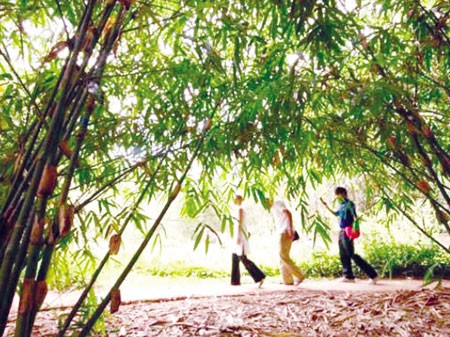 Truc Lam country lane covers with the shadow of bamboo trees.
Life in the village was peaceful and simple. Villagers enjoyed the clean, pure air and stress free environment amidst natural surroundings.
The elderly credited their longevity to the challenges and other obstacles they faced when they were young. In addition, factors such as a healthy lifestyle, eating and drinking in moderation, and maintaining a regular routine of daily activities was instrumental for longevity.
According to Nguyen Quoc Anh, director of the Population Information and Data Centre, the statistics showed a rapid increase in the number of elderly people in Viet Nam at 8.1 per cent of the total population in 1999 to 9.9 per cent today. Estimates also indicate that this number will cross 11.4 per cent in 2020 and 26 per cent (equivalent to nearly 30 million people) in 2050.
Quoc Anh believes that growth of the elderly population in Viet Nam has been much faster than in many other countries around the world.
More than 80 per cent of Viet Nam's elderly currently live in the countryside. About 20 per cent live below the poverty line and another 20 per cent live in temporary housing. However, more than 70 per cent of the country's elderly lead their lives without a pension or other financial support.