Exploring perhaps a better use for the greatest source of people's world-threatening CO2 emissions, sculptor Nguyen Tam Nham has created some 56 coal busts of Picasso and set a new Viet Nam record for the most coal busts of Picasso, as recognized by the Viet Nam Guinness Book Center (Vietbooks).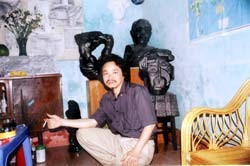 Sculptor Nguyen Tam Nham
No word has apparently yet been heard on what the previous record might have been.
Nham is also reportedly considered a phenomenon of modern Vietnamese sculpture, said Nguyen Ngoc Dung, PhD, one of the nation's leading art critics.
Nham's busts of General Vo Nguyen Giap, the young Picasso and his wife have reportedly left "deep impressions" on visitors to Nham's boudoir.
Through Nham's works it is reportedly said viewers can realize the characters of the actual subjects through "round cube shapes, such as the General's forehead, illustrating humanity, or the head of the famous painter."
"When I was a child, I usually played with marbles. Growing up a little more, I made coal paperweights and coal animals for sale," said Nham.
Nham had never imagined, he said, that, from these childhood games, he would one day become a sculptor using coal to create artworks.
Nham's works not only include bust but others sculptures. But Picasso bust make up the majority of his works. Why Picasso?
"Picasso was a genius," enthused Nham, "His fought for a peaceful world. He was a member of the French Communist Party and the President's friend. 'If you are not a leader', Picasso said to Uncle Ho in the late President's visit to France, 'you will be a famous painter'."