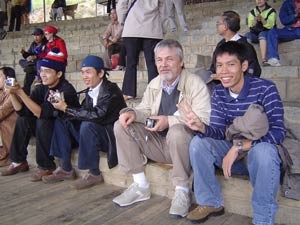 Friedrich W.Zimmermann (2nd,R) and young journalists of SGGP Online English Edition (Photo: Hoang Yen)
Meetings between Sai Gon Giai Phong journalists and German colleagues and diplomats are found to be practical and inspiring.
The Ideal German Colleague
Difficulties in going from a Vietnamese newspaper to an English edition can be overwhelming. Of the many complications to be faced, according to other established newspapers, finding an English expert appeared to be the most daunting. Ms. Minh Thao, our Managing Editor, sought the help of Senior Experten Service (SES) – a German NGO established in 1983.
Surprisingly, in just over a week her request for assistance was met. SES's Southeast Asian manager promptly appeared at SGGP with a contract in hand and a smile to greet.
A month later at SGGP appeared Friedrich W. Zimmermann. As SES's English language expert, he would become one of SGGP Online English Edition's first journalists. By the age of 65 he had spent half a decade covering all corners of Africa and fifteen years reporting and editing for one of Germany's famous radio and television stations.
Mr. Zimmerman came accredited and was open-minded, enthusiastic and serious. He quickly became part of the SGGP reporting family enjoying meals, entertainment and extracurricular activities with the staff.
Although his contract would soon end, his honesty and warm-hearted nature left a lasting inspiration and impact on the staff. He voiced sincere hopes and concerns for the newspaper to find an English expert, while expressing a desire to collaborate in the future.
This is the image of a colleague that I will keep in my mind as a typical German associate.
The practical experience
A full-functioning relationship was established with F. W. Zimmermann and his colleagues. Its maintenance has been critical to the success of this paper. As well, our managers had the opportunity of participating in online journalism courses in Germany.
Recently, I too was able to take advantage of German Mass Media Tour as part of a thirteen member international group of journalists. The trip would strongly impress the strengths of developed journalism.
The overwhelming schedule included visits to twenty newspapers, press agencies, radio stations and TV stations. We would witness and learn about the most modern techniques involved in each field.
Beyond the shared journalistic skills, our German colleagues shared a wealth of generosity and sincerity. All inquiries, from the most general to the most personally peculiar, were handled in a thorough, kind and timely fashion. In the end it was clear that we had a mutual respect as colleagues that went well beyond the friendly relationship.
A friendly impression
The impression I was left with was not solely a product of my experiences in Germany. In fact, I was given help in all aspects from the German Consul General in HCMC Peter Seidel, the Consul and Press Attaché Mr. Pfeifer, and the Assistant to the Consul Generals Tran Thuy Linh. From books to bookings and from visas to technical arrangements they made all the pieces fall into place before my departure.
Before my trip SGGP cooperated with the German Consulate General to organize the World Cup's Result Prediction Competition for our readers. German Consul Pfeifer would share his joy of the Cup's success with our staff and readers.
From my trip and the subsequent interactions, it has become very clear how important it is to maintain these business relationships. But, beyond business there is a shared respect and kinship that cannot be replaced. It is in that relationship we can find access to development, integration and inspiration.