Yesterday, the Viet Nam Abroad Committee in HCMC (VACH) received its third-class labor medal. The Ministry of Foreign Affairs in association with VACH awarded certificates of merit to three Vietnamese people who live overseas, Mr Yung Cam Meng, Mr Duong David Trung and Ms Nguyen Cao Thang. A SGGP reporter met and talked with them on this special day.
Mr Yung Cam Meng
Mr Yung Cam Meng: Charity is the Natural Good
Mr Yung Cam Meng is a Chinese Vietnamese, who moved back home in 1990 in order to find investment opportunities in Viet Nam. In 1994, he established the Sieu Thanh Company that specializes in office equipment. After 14 years in operation, Sieu Thanh's value has reached approximately VND 82 billion.
CEO of the Sieu Thanh Company, Mr Yung Cam Meng (Cam Minh) committed to the task of helping create 400 jobs for Vietnamese laborers. In addition, he has helped many disadvantaged families with the charity activities he is involved with. Mr Cam Minh said that he was born in poor family therefore he deeply sympathizes with disadvantage situations.
Cam Minh has brought much happiness to heart-disease patients, disable children and blind patients.
In the future, Cam Minh says that he wants to invest much more into Viet Nam. His family has moved back to Viet Nam to join Cam Minh over the last 10 years. "I went abroad due to a difficult situation but I have missed Viet Nam very much and when I had a good opportunity to come back, I took it.
Mr Cam Minh is working on a project to expand his business' operation, not only in the area of office equipment but he wants to expand his business to include auto salon and restaurant.
Mr Duong David Trung: I am Always Directed Toward Home
On 1st November 2007, the new Da Phuoc Solid Waste Treatment Complex (located in the Binh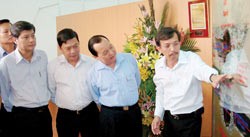 Mr Duong David Trung (R) guides the city leaders about the processing to treat waste at Da Phuoc Complex
Chanh District) was put into operation in Ho Chi Minh City. This complex contributed to the solution to solve the city's crisis about waste disposal in HCMC. The new plant in Da Phuoc was able to receive and treat 31,000 tons of waste per day and be in operation for 21 years.
Da Phuoc is the center of the most advanced technological area in Viet Nam and the investor for this project was Mr Duong David Trung, who is a Vietnamese American. He is also the CEO of Viet Nam Waste Solutions (VWS) which has a net worth of approximately US $107million.
David Trung said that he wanted to continue contributing to his home country – Viet Nam.
Ms Cao Thang
Ms Nguyen Cao Thang: I Wish to Help Patients
In 1950, the OPV Pharmaceutical Corporation was established as part of the Office Pharmaceutique du Viet Nam. In the 1970s, OPV became the biggest pharmaceutical company in Viet Nam and Southeast Asia at that time.
The person who contributed to the success of OPV is Ms Nguyen Cao Thang, a Vietnamese American. Ms Cao Thang is CEO of OPV and she officially came back to Viet Nam and invested in OPV in 1994.
She always believed that Viet Nam would be able to integrate with the other countries in ASEAN and Asia. It was because of this reason that she has come back and invested in OPV. She said that she would be ready to cooperate with the international pharmaceutical companies in order to upgrade the technological skill as well as the techniques in manufacture.
OPV is getting better and better with an aim to bring the best service to Viet Nam's people. "Vietnamese people have high energy and patience. Vietnamese health experts have ever been admired by the world. The Viet Nam health industry has never seen much investment but health staffs have achieved good results in caring for the health of the people". Ms Cao Thang added.
OPV, which is managed by Ms Cao Thang has created jobs for over 700 Vietnamese laborers.