A Puch, a 25 year-old man from the Xe Dang ethnic minority living in Dak Ha District of Kon Tum Province, gave up his dream of being a teacher and dropped out of school eight years ago to bring up his three orphan nephews and niece.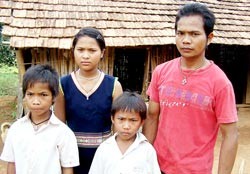 A Puch with his nephews and niece
In 2001, A Puch was an eleventh grader in high school in Kontum Province.

One day, when he was sitting in the classroom, striving for his dream of being a teacher, a man from his village came to the door and announced the shocking news that Y H'Laoh, his sister, had died from a fatal illness.

Y H'Laoh passed away when her youngest son, A Can, was only ten months old.

No one knew about her death until A Can was hungry, suckling his mother's breast in vain and crying bitterly. Her eldest daughter, A Chanh, was only six years old.

A Puch decided to quit school to give a lending hand to A Chuc, his brother-in- law, who worked really hard but could never earn enough for the whole family to live on.

Three years later, A Chuc died from physical stress. As the sole adult in the family at the time, A Puch, had no choice but to shoulder the responsibility of bringing up the three parentless kids.

A Puch recalled, "It was a real challenge for an inexperienced single man like me to take care of three small children, who often fell ill because they were malnourished.

"We've got a lot of assistance from villagers. Without it, things would be different," he added.

"When one of the kids fell sick, people in the village would drop by our home to give us some food because they knew that I couldn't go to the mountain fields. Since I didn't have money to buy medicine for the kids, they spared no effort going into the forest to pick up medicinal plants for me."

Understanding his difficult situation, the municipal authorities once suggested A Puch leave the three children to the care of the Kon Tum Province Orphanage, but he refused to do so because he loves the kids as his own children.

And the children do not want live far away from him, either. Y Chanh said, "We are getting older now and can help our uncle with the housework and farming. If we try our best, we will earn enough to live on."

No matter how difficult the family's financial situation is, A Puch always tries to save enough money to cover the children's schooling. He said, "I can't let them be illiterate."

Y Chanh, now 15, is a ninth grader at Dak Ui High School. A Kinh, 11, and A Can, 9, are fifth grader and third graders, respectively at Vu A Dinh Elementary School.

Commenting on Y Chanh's studying, Nguyen Thi Phong Lan, deputy principal of Dak Ui High School said, "She is a punctual and hardworking student. Last year, she was awarded a merit certificate for her excellent study and good behavior."

To have enough money to bring up the three orphans, A Puch has to do all sorts of hard work. After working on his own farm, he works for others' so that he can earn a few thousand dong a day.

What is worrying A Puch most now are the tuition fees for the kids. He said, "The higher the class they move up, the higher tuition fees I have to pay. If I can run a small business, I can make more money. The problem is I don't have any funds."

In his dream of having an improved new life for the whole family, A Puch is eagerly longing to own a breeding bull. Maybe, just maybe, his dream will come true.