Nguyen Hai Ha, 30 years old, is already the American group leader of AP Moller – Maersk Group. In a corporate effort to globalize, many young Vietnamese are being sent abroad to lead big business groups.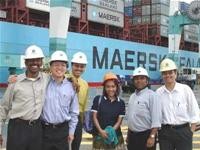 Nguyen Hai Ha (R) is the American group leader of AP Moller - Maersk Group (Photo: Tuoi Tre)

Many young managers of big groups in Viet Nam are being sent abroad not for training courses, but to become leaders.
Human Resources Vice-Executive of Unilever Vietnam, Nguyen Phuong Loan, said for the time being, twenty Vietnamese are working as Unilever managers in Asian countries in charge of marketing, customer development, finance (regional auditing), human resources and manufacturing departments. All of them are 28 to 30 and have been assigned one to three year contracts.
Other groups, including Coca Cola Vietnam, AP Moller – Maersk Group, and Procter&Gamble Vietnam (P&G), said they are currently performing a labor-export program.
P&G Vietnam has 10 Vietnamese senior managers who are young and working abroad in Singapore, Thailand, Indonesia, China and Germany.
The well-known transport group, Maersk, has six Vietnamese employees located in Singapore, two in China, one in the US and one in Denmark; two of these are senior managers.
30-year-old Nguyen Hai Ha was Southeast Asian marketing manager of Maersk based in Singapore two years ago, and now is the American group leader in charge of market research in North and Latin America.
These individuals have proven the leadership abilities of young Vietnamese in the global environment, which is an integral part of these companies' business strategies. They believe fresh managers will try their best to prove themselves at their highest capacities.
"By sending Vietnamese senior managers abroad, we want to prove that the Vietnamese are among Unilever's best Asian leaders,"
Nguyen Phuong Loan, Unilever Vietnam's Human Resources Vice-Executive.
Phuong Loan said: "A brand manager in Viet Nam can go abroad to develop the brand, or even be assigned as the manager of another brand. In Unilever, the highest positions of young Vietnamese working overseas are often regional brand managers or human resources executives. They are given opportunities to come into contact with the overseas working environment. They will have a chance to learn from foreign employees and for their part share their own global experiences".
Once Viet Nam joins the World Trade Organization (WTO), Viet Nam-based international groups will further seek senior managers who are able to work with regional or continental partners and hold a vast knowledge of international business as well as good conduct in overcoming communicative cultural barriers.
Nguyen Hai Ha used to be the manager of just Asian employees and has moved onto leading Danish and Colombian employees. He said: "I have to consider who I am working with and what their cultural characteristics are in order to appropriately manage them."
Big companies like Unilever, P&G and Coca Cola usually begin with training; they hunt fresh graduates and launch management trainee programs as well as provide scholarships for excellent students at Vietnamese universities. After two years, trainees are recruited to be managers, or even executives.
Nguyen Hai Ha and many other Unilever managers said they used to be students of economic or foreign trade universities before reaching top positions.