It will require at least 10 days of good weather to remove the remaining fuel from a Panamanian ship that sank off the central Vietnamese coast with 11,500 tons of iron ore, the company hired to salvage the oil has said.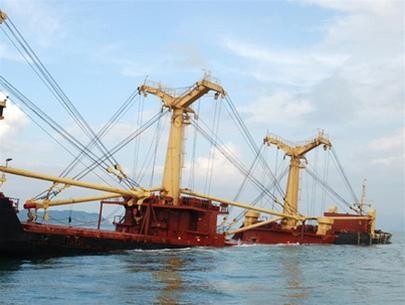 The New Oriental sinks off Phu Yen Province after hitting underwater rocks (Photo:TTO)
The New Oriental sank off Phu Yen Province after hitting underwater rocks earlier this month when it was looking for a safe haven from a storm while en route from Thailand to China.
Salvage company Quy Nhon Vietfracht's vessel Vu An Hung removed 370 tons of fuel on October 17 and 18.
Over 130 tons remain in the fuel tank, and there is a high risk of a spill as the vessel sinks deeper.
The joint-stock firm's director Pham Duong Tung added that the 3,000 DWT freighter Quy Nhon Visal, equipped with a crane, is on its way from Vung Tau to the wreck site and is expected to salvage more than 10,000 tons of iron ore from the ship.
Another 1,500 DWT freighter and two other ships, Hop Thanh 09 and Vu Long 08, will salvage other goods from the ship's second and third holds.
Upon receiving signals for help from the ship, Quy Nhon city-based rescue forces, border guards, and fishermen from Phu Yen province rushed to the site and managed to save the crew but had to stop salvage work due to bad weather.