The State President has decided to grant amnesty to 10,535 prisoners on the occasion of the 66th anniversary of the National Day (Sept. 2).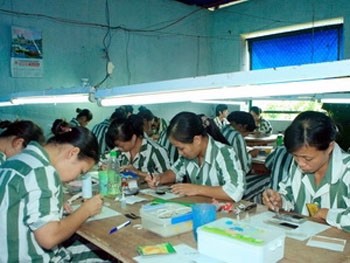 Prisoners works at Phu Son 4 Prison
The information was released at a press briefing to announce the State President's decision in Hanoi on August 29.
The amnesty recipients include 10,244 prisoners who are serving their jail terms and 291 others whose imprisonment sentences are being postponed or temporarily suspended.
According to Lieut. Gen. Le Quy Vuong, Deputy Minister of Public Security, 11 of the prisoners being freed are foreigners, five had been convicted of national security crimes and 111 others had been charged with making corrupt use of their positions.
They include 1,333 women, 29 aged over 70, and 150 ex-officials and civil servants.
The amnesty decision signed on August 25 by the State President once again constitutes and affirms the Party and State's policy of clemency for those offenders who have shown repentance, encouraging them to redeem themselves to become useful persons, said Giang Son, Vice Chairman of the Office of State President.
All prisons and detention camps nationwide will begin enforcing the amnesty decision in the morning of August 29 so the amnesty recipients can re-unite with their families on the National Day.