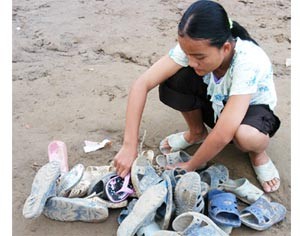 Slippers of victims are found. The accident kills nineteen children.
A boat at the port in the central province of Nghe An with 30 people aboard sank on Saturday.
The searchers have recovered 11 bodies out of 19 victims so far. A most of them were decayed, only two bodies of Luong Manh Hung, Loc Van Truong were identified.
To date, 6 other professional divers were sent to the port to search for more victim bodies.
After the accident, Prime Minister Nguyen Tan Dzung has strictly reprimanded the Nghe An province's authorities.