The French embassy and the French Development Agency (AFD) will fund 120,000 EUR for a technical assistance project on assessing the air environment in Hanoi.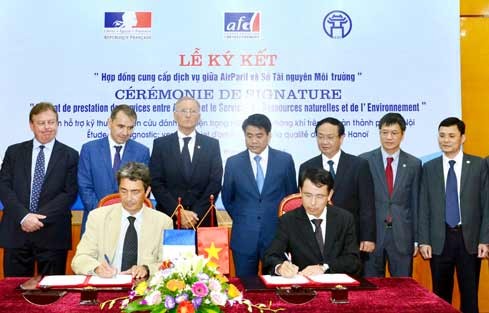 The signing ceremony (Photo: SGGP)
Chairman of People's Committee in Hanoi Nguyen Duc Chung and Minister of State for Development and Francophone Andre Vallini yesterday signed a contract to provide consultation to the project on evaluating Hanoi's air environment.
As per the contract, the French embassy and the AFD will fund 120,000 Euro for researching and strengthening capability for Vietnam's capital city.
Air Parif Company – a non-profit organization - is assigned for helping the city with the air environment assessment project. Air Parif Company is recognized by the French Ministry of Environment as an experienced and skillful expert in monitoring air quality, predicting pollution hypothesis and assessment of effect of measures against pollution so that the government and residents can grasp.
Currently, Hanoi authority has approved 20 spots to build air monitor stations during the first phase.