The ninth and final session of the 12th National Assembly wrapped up in Hanoi on March 29, voting for several laws, except for the Law on the Capital City.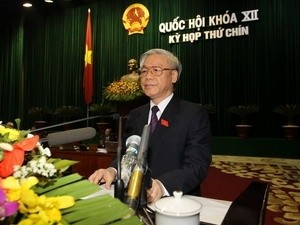 Party General Secretary and National Assembly Chairman Nguyen Phu Trong speaks at the final session of the 12th National Assembly (Photo: VNA)
The bills passed at this session included the Law on Human Trafficking Prevention, the Law on Independent Auditing and amendments to the Civil Litigation Code.
The draft resolution of the 12th National Assembly's ninth session was passed, obtaining 90.76 percent of the votes.
Party General Secretary and Chairman of the 12th NA Nguyen Phu Trong said the NA has made strong changes to improve the efficiency of law making and supreme supervision as well as in deciding important issues for the country.
He hailed the State President for making many active contributions to the nation's external and internal activities and the building of the national great unity bloc.
The Government and the Prime Minister have exerted efforts in running and managing the country and society in a dynamic and resolute manner to meet the people's growing needs, Mr. Trong said in his speech to close the session.
He also recognized the efforts judiciary agencies have made to gradually improve as required by the judiciary reform roadmap, and the progress the agencies have achieved in judiciary activities.
The Party General Secretary asserted that these achievements have contributed immensely to the country's common achievements.
He asked the deputies to enthusiastically take part in preparing for the election to the 13th National Assembly and supervising the work.
According to law, the first session of the 13th National Assembly will convene on July 22, 2011 at the latest.
The upcoming session will elect and approve senior personnel of the State, along with considering socio-economic issues and the State budget while passing a number of bills and dealing with other important matters.