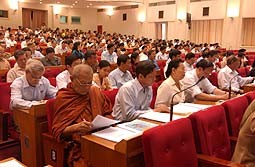 A National Assembly Standing Committee's session 
The National Assembly (NA) Standing Committee and the government held a conference on the operation of people's committees and councils today.

NA Vice Chairman Truong Quang Duoc said there will be a nationwide election for the 12th-tenure NA in May 2005.
Minister of Home Affairs Do Quang Trung proposed that the NA adjust the structure and operation of administrative systems at the grassroots level in order to build a consistent executive body.
He also stressed the importance of a consistent state mechanism which still makes a distinction between urban and rural authorities.