The eighth session of the 13th National Assembly (NA) concluded on the November 28 afternoon after more than one month of working with a heavy agenda dealing with a number of important issues.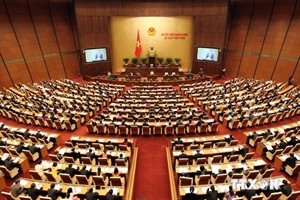 The eight session of the 13th NA concluded on the November 28 afternoon after more than one month of working with a heavy agenda (Photo: VNA)
Speaking at the closing ceremony, NA Chairman Nguyen Sinh Hung said that the eighth session was a success with loads of decisions on the country's crucial and urgent issues made, meeting the expectation of voters nationwide.
He said NA deputies set up the overall objectives for 2015 as continuing to stabilise the macro economy and remove obstacles for production and business; drastically and effectively implementing strategic breakthroughs; improving the quality, effectiveness and competitiveness of products, businesses, and the economy; and promoting public investment's efficiency and ensuring the country's public, Government, and foreign debts within limits, the leader said.
They also targeted accelerated administrative procedure and judicial reforms, corruption prevention and control, thrift practice, and wastefulness prevention; increased effectiveness of diplomatic works and international cooperation; and enhanced defence and security capacity, he added.
The top legislator expressed his belief that with the unanimity of the Party, the whole political system, army and people, Vietnam will weather all difficulties to realise socio-economic development plans for 2015 and the 2011-2015 period, creating new momentum for its rapid and sustainable growth in the years to come.
Prior to the closing ceremony, 405 or 81.49 percent of the NA deputies voted for a resolution on amendments and supplements to the NA's Resolution No.35/2012/QH13 on vote of confidence on officials holding positions elected or approved by the NA or People's Councils.
Accordingly, confidence vote will be held once every tenure and during the regular session at the end of the tenure's third year. It will be conducted by ballot and specified in three degrees - high confidence, confidence, and low confidence .
Officials whose low confidence votes account for more than 50 percent of the total votes can offer resignation.
Apart from this resolution, NA deputies also approved a resolution on the continued improvement of the effectiveness of the economic restructuring in public investment, State-owned enterprises, and the banking system; a resolution on the NA's question-and-answer; and another on renovating school curricula and textbooks.