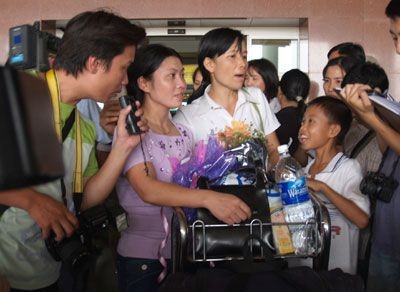 Vietnamese workers evacuated from Lebanon arrive at the Noi Bai International Airport. (Photo: www.vov.org.vn)
In reply to the Sai Gon Giai Phong Newspaper's reporter on August 6, Mr. Tran Viet Tu, counselor of Vietnamese Embassy in Egypt, said that 14 more Vietnamese are scheduled to leave war ravaged Lebanon for Viet Nam on August 8.
Like the first group, they will travel overland to Syria, take a one-day rest in Damascus, then fly to Viet Nam. However, the number of evacuees in the second stage might be changed because 2-3 of the 14 workers will remain in Lebanon for personal reasons, said Mr. Tu.
For those Vietnamese who still get stuck in Lebanon, Mr. Tran Viet Tu added that if they want to return home, registration for repatriation is always made easy. The counselor and his co-workers have contacted all Vietnamese workers in Lebanon and asked if they want to return. Nearly 50 Vietnamese workers in Lebanon have by now not registered for repatriation yet.
Related articles:     

Vietnamese from Lebanon Evacuated Safely
VNA to Help Repatriate Vietnamese Workers in Lebanon
Vietnamese Workers Evacuated from Lebanon
Protect Vietnamese Interests in Lebanon
Viet Nam Mission Arrives in Beirut to Evacuate Vietnamese
PM Requests Repatriation of Vietnamese Citizens in Lebanon
Viet Nam Calls on Citizens to Leave Lebanon