At least 143 people had been dead or missing in northern Viet Nam until Sunday after heavy rains brought by tropical storm Kammuri triggered widespread flash floods and landslides.
The number, which was announced by the National Committee for Storm and Flooding Preparedness on Sunday, included 36 deaths in Lao Cao Province, nine in Ha Giang, eight in Quang Ninh, six in Phu Tho, and one in Bac Kan Province. Dozens of people were reported wounded. 

Two pictures taken in Lao Cai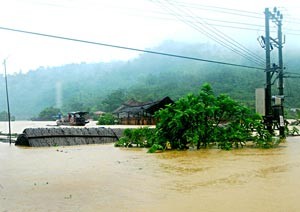 Floodwater rises to the roofs of houses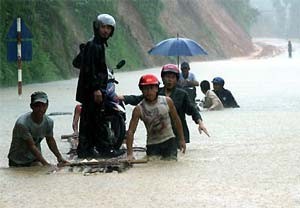 Flood victims evacuate
Thousands of troops, police and emergency services rushed to flooded towns in the five provinces to deliver drinking water, food and medicines to people stranded on the roofs of their houses.
The worst-hit province is Lao Cai, where almost 40 people were reported dead or missing. About 40 homes were destroyed and more than 1,600 damaged by the floods, which had wiped out more than 1,500 hectares of crops. Some mountainous communes in the districts of Sa Pa, Bat Xat and Bao Thang remained isolated by floodwater. Lao Cai officials said the toll could rise as some areas remained isolated due to blocked roads.
The floods also caused huge material damage to the provinces of Ha Giang, Yen Bai, Tuyen Quang, Bac Kan, Phu Tho, and Quang Ninh. In Quang Ninh, seven out of the eight miners trapped underground in a coal mine accident was rescued Sunday. Search is continuing for the remaining trapped miner.
The accident triggered by a water leakage occurring at 3 a.m. Sunday at the Tay Khe Sim coal mine when 17 workers were dismantling equipment to halt production there. The coal mine is currently operated by the Khe Tam Coal Enterprise. 
On Saturday, a train engine was overturned by floods on the railway line between Ha Noi and Lao Cai.
The Vietnam Red Cross (VRC) has decided to give almost VND1 billion in emergency relief to flood victims in the affected northern provinces. Lao Cai, Yen Bai and Phu Tho will receive VND100 million each; Lai Chau, Son La, Ha Giang and Bac Kan will be given VND50 million each to buy essential goods for the victims.
The VRC has also sent 600 boxes of goods, including blankets, cookers and water containers, to these provinces and will give VND2 million to the family of each dead victim.
The Vietnam Fatherland Front Central Committee Presidium on August 10 sent a message of sympathy to the flooding-hit provinces.
On the same day, Ho Chi Minh City sent VND1 billion to Lao Cai, Yen Bai and Phu Tho, with VND400 million for the victims in Lao Cai, another VND400 million for Yen Bai victims, and VND200 million for ones in Phu Tho. The HCMC Fatherland Front Committee is receiving donations from the public to support the storm and flooding victims.
At present, the water of the rivers in the mountainous northern region is rising to alarming levels. The national weather bureau forecast that the water levels would peak in the next two days. The weather bureau also announced that a low pressure was in the making in the north, so heavy rains would come in the next few days.