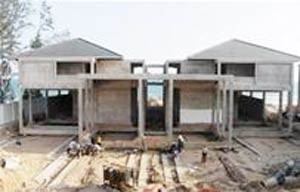 The house has been moved one meter away from the former location.
Farmer Nguyen Cam Luy, famous for moving hundreds of houses and construction projects, will move lock, stock, and barrel the 960-square-meter house in Ham Thuan Nam district in the coastal province of Binh Thuan.
The Vietnamese 56-year-old man, locally called a 'genie', and his company, have been hired to move a 1,500-ton, two-story house in the Vietnam-France Tourism Complex in Ham Thuan Nam district .
The relocation, which is 11 meters from its original site, was decided upon to offer a better view of Ke Ga, the country's highest lighthouse, from the complex's restaurant.
General Director Gilles Poggi of the Vietnam-France Tourist Company said his Vietnamese associates advised him to sign up Mr. Luy, who is famous for his ability to relocate and straighten structures. The relocation cost is about VND1.4 billion (US$87,363).
Mr. Poggi said he has never heard of or seen such relocation and he was initially very worried about the safety of the building. "But now I feel secure. If I tell this to my friends in France, they might laugh and say I have a good sense of humor," he concluded.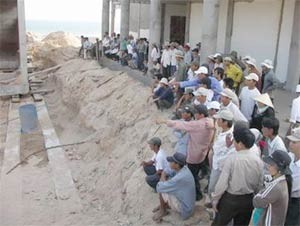 Interested local peoples get to the place to see Mr. Luy's works.
For four months, Mr. Luy and his men made preparations and just started work on moving the house a week ago. The house had been moved nearly one meter before the cables used in the job broke repeatedly.
Chief worker Them said it was normal for the cables to break and that the company was bringing in another 200 meters of cables from Ho Chi Minh City.
Mr. Nguyen Cam Luy is a farmer from An Giang province, who studied up to fourth grade, is greatly admired in Viet Nam for his unique ability to move any type of structure – wood, brick or concrete. Since 1990 he has moved more than 250 structures, including temples and a century-old tree.
In 2004, he traveled to Italy to move an old house in Martina Franca at the invitation of Leocardantonio Sisto and Ngo Thi Kieu Thu, a Vietnamese couple living in Italy. He also conducted research on the Leaning Tower of Pisa, attended a workshop to present his 200 successful works on moving private houses and old buildings including those selected as Viet Nam's historical structures.