The Ministry of Labor, Invalids and Social Affairs (MOLISA) held a conference to review the past five years of carrying out the Ordinance on elderly people.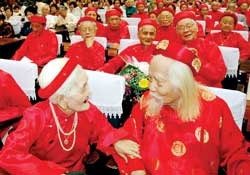 Ho Chi Minh City's senior citizens talk together on the International Day for the Elderly in 2005
Throughout the country there are 7.3 million elderly people, accounting for 9 percent of the
population; of whom 145,000 are over 90 and 14,600 are senior revolutionary cadres, 7,120 Heroic Mothers, 1.7 million war veterans.
Since the Ordinance on elderly people was issued, most provinces have implemented it. For example, 156,000 elderly people each get VND65, 000 – 200,000 per month as social allowance in 2005. 13 provinces provided better allowances than what is regulated by government by 30-70%. Moreover, 91,347 elderly people of over 90 years old are given free medical insurance.