Lao Cai and Yen Bai, the northern provinces worst hit by flash floods and landslides triggered by tropical storm Kammuri, were still isolated in the Monday morning.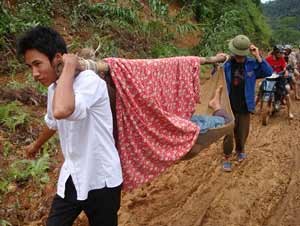 A flood victim in Lao Cai's Bao Yen is carried by men to a hospital (Photo: SGGP)
The two provinces have become the center of the historic floods. Transportation and communications are the hottest problems now. Thousands of people want to escape isolated areas but in vain due to blocked roads.
The Ha Noi-Lao Cai train route was stopped as the three stations of Yen Bai, Phu Tho and Co Phuc remained seriously flooded. In Yen Bai, two train carriages had dropped into the Red River.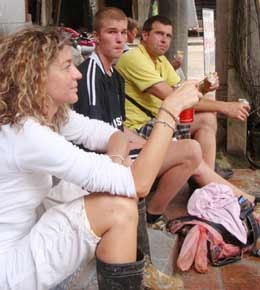 Tourists in Lao Cai's Pho Rang have to wait until the roads are through (Photo: SGGP)
Many foreign tourists in Pho Rang Town and other areas of Lao Cai have to stay in the flooded areas though they want to come back to Ha Noi. They have to wait until the roads and railway are through again.
Pho Rang experienced power cuts. Many tourists were queuing in front of the Bao Yen District Post Office to make a phone call but all could not. Both Vietnamese and foreign tourists were seen at many places in Pho Rang. Locals said telephone and Internet cables had been broken.
At least 143 people had been dead or missing in northern Viet Nam until Sunday after heavy rains brought by storm Kammuri caused flash floods and landslides, according to the National Committee for Storm and Flooding Preparedness.