More than 20,000 domestic and foreign visitors paid tribute to Uncle Ho at his Mausoleum in Hanoi during the Tet holiday season.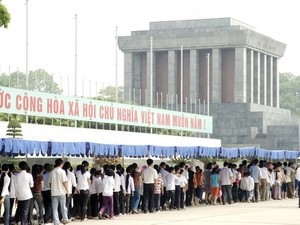 Visitors queue up for visiting the Ho Chi Minh Mausoleum in Hanoi. (Photo: VNA)
The mausoleum management stated that the number of visitors had increased by 20 percent this year as compared to the same period last year. During the year, an average ten thousand people visit the Mausoleum on week ends, festivals, Uncle Ho's birthday and on his death anniversary.
The Ho Chi Minh Mausoleum remained closed on February 4 and 7, but it will reopen on February 8.
The mausoleum is located in Ba Dinh Square, where President Ho had once read the Declaration of Independence to establish the Democratic Republic of Vietnam on September 2, 1945.
Today the square is used as a place to hold important activities of the party and state, political and cultural meetings and ceremonial parades.