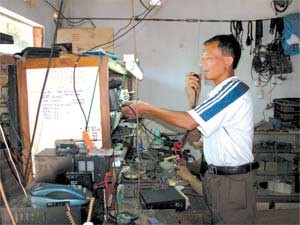 Mr. Tran Van Luu in his broadcasting station
Farmer Tran Van Luu was among the 27 organizations and individuals who received the 2006 Kova Prize on Tuesday for their contributions to society.
The only farmer at the awards ceremony, Mr. Tran Van Luu from the province of Thanh Hoa has been spending his own money over the last 20 years to operate a coastal radio so that fishermen can hear the latest weather reports and other important information.
The most significant of the six recipients of the "Bright Examples in Society" prize were the Infectious Diseases Department of Dong Da General Hospital in Ha Noi and the chapter of the Vietnam Women's Union in Binh Lu, a commune in the northern province of Lai Chau.
Prizes, along with scholarships, also went to 21 outstanding university students across the nation.
The Kova Prize, financed by three KOV A paint companies in Ha Noi and Ho Chi Minh City as well as several other foreign organizations, was first awarded in 2003 by the president of the Viet Nam Kova Paint Company, Dr. Nguyen Thi Hoe.
The prizes are awarded annually to students with outstanding academic records or scientific research result and groups or individuals who have made technical innovations and initiatives that have social applications. Students who have overcome great difficulties are also considered for the Kova Prize.