Arpproximately 21 million motorcyclists in Viet Nam are obligated by law to wear crash helmets starting today [December 15], failure to comply will result in heavy fines. This initiative is an attempt by the Government to reduce traffic accident related deaths.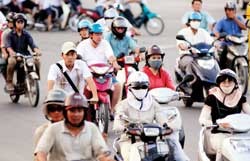 Starting today, all motorists are obligated by law to wear helmets
From 6 a.m. local time, traffic police were mobilized at key areas to check and issue fines of between VND100,000 and 200,000 (US$6.2-12.4) to each violator. The Government had tried to implement this regulation five years ago but it failed due to great public opposition. The new law, states that all motorbike riders on all roads in Viet Nam must wear helmets at all times.
According to the National General Statistics Office (GSO), more than 2 million new motorbikes were registered in August, raising the total to 21 million. In the first eight months of this year, nearly 9,000 people were killed, up 6.1%, the GSO said.
Deaths related to road accidents have climbed but since the helmet law was announced and people have begun wearing helmets in preparation, these deaths have been reportedly declining. Accidents in August declined by 8% compared to the same period last year, while according to rough estimates, incidences of brain traumas caused by traffic accidents are down by up to 50% at some hospitals, transport minister Ho Nghia Dung told Sai Gon Giai Phong.
Mirijam Sidik, deputy head of the non-profit organisation Asia Injury Prevention Foundation (AIPF), hailed the new law, saying donning helmets - dubbed "rice cooker" in Viet Nam - is to protect oneself and one's family.
However, opponents say that helmets make it difficult to hear, turn their heads to watch out for traffic, or are too hot and too heavy. Also, women from certain ethic groups who traditionally grow their hair long and tie it into enormous buns report that no helmet fits their hairstyles.
For months Vietnamese authorities have been carrying out campaigns to raise the public's awareness of helmets and their benefits. Billboards on highways have been featuring models and celebrities wearing helmets and television has been continuously running programs on the subject.
The government donated 50,000 helmets to poor residents across the nation while in Ho Chi Minh City, local businesses granted thousands of helmets to students, workers and the poor. Deputy Prime Minister Hoang Trung Hai has implored all Vietnamese to wear helmets at a recent ceremony held in Ha Noi to launch the implementation of the policy.
Do helmets ensure safety?
At a conference held in HCMC last month "Consumers and Helmet Quality", the Ministry of Science and Technology reported that tests carried out over the last few months found that only 32% of crash helmets for sale in Viet Nam met safety standards. In addition, 75% of the 60 helmets tested recently by the National Quality Assurance and Testing Center No. 3, failed to meet resilience and impact resistance criteria.
Due to understandingly skyrocketing demands, several new manufacturers have reportedly begun to produce cheap imitations and poor quality helmets have been smuggled from neighboring countries. In Ho Chi Minh City, cheap helmets costing only VND20,000 ($1.25) are sold on the streets while branded local ones are going for VND80,000-150,000 (US$5-9), with imports priced between VND200,000-400,000 (US$12.5-25).
Although most buyers know cheap helmets would do little in an accident, they said they bought them just to "avoid the police".
Yesterday evening, many people poured into HCMC streets, especially downtown, firstly to celebrate the upcoming Christmas and secondly, as many claim, to mark the last day motorists are allowed to wear normal hats or none at all. Ironically, athough it would be only hours later when they would be obligated by law to wear helmets, almost no soul was seen donning the "rice cooker" last night.