Heavy rain-triggered flooding and landslide across the northern region caused at least 25 dead and missing and forced evacuations of 5,500 households in the aftermaths of typhoon Rammasun over the last three days.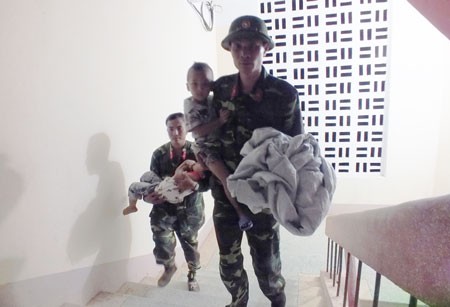 Military soldiers help evacuate residents especially the elderly and children to safe places to avoid typhoon Rammasun's fury in Mong Cai City, Quang Ninh Province (Photo: SGGP)
At least 25 people were reported dead or missing on Monday afternoon, an increase of 16 people compared to the previous day.
Of these, Lang Son lost five, Lai Chau six and Lao Cai three. Cao Bang, Bac Kan, Son La and Tuyen Quang lost one each.
Landslides caused by torrential rains buried and killed 7 people including a ten day old baby in Hoang Su Phi District, Ha Giang Province.
The district authorities have mobilized hundreds of military and police officials to help local people rebuild or repair their houses.
Local residents have cleaned up debris caused by the storm in Mong Cai City where is nearest to the typhoon's path.
Several areas in Lang Son City are submerged as heavy rainfall is continuing to raise floodwaters. Water level in Ky Cung River has topped alarming level 3 by one meter.
The province's People's Committee has mobilized 5,300 army and police officials together with local volunteers to evacuate residents and their properties to safe places.
According to the Central Steering Committee for Flood and Storm Prevention and Control, floodwaters have inundated nearly 5,800 houses in Lang Son and 2,00 others in Dien Bien, Tuyen Quang, Lai Chau and Bac Kan.
Hundreds of houses were collapsed or lost rooftops. More than 3,500 hectares of rice and vegetables have been under water or flattened. Floodwaters and landslide also cut off several traffic routes in mountainous areas.
Financial loss caused by storm damage has totaled thousands of billions of dong.