The Asian Development Bank said Wednesday that it approved a US$26 million technical assistance grant financed by the Australian Government for construction of two major bridges and a connecting road in Vietnam's Mekong Delta.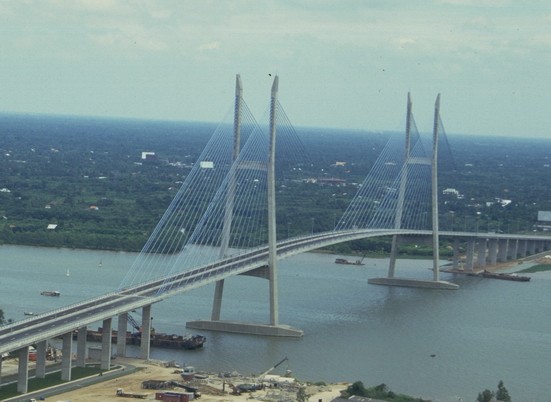 File photo of the My Thuan Bridge in the Mekong Delta, also built with Australian funding
The technical assistance is part of the Australian Government's commitment to provide a A$160 million (US$171 million) grant to the Vietnamese Government over five years for the bridge and road project, as announced by Australia's Prime Minister Julia Gillard during her official visit to Vietnam in October 2010.
This A$160 million investment represented the largest single Australian aid activity in Southeast Asia, the Australian Embassy Hanoi said while announcing the financing last October.
The project will build two large cable-stayed bridges and a 25-kilometer road connecting them. Each bridge is two km long, with a six-lane roadway 40 meters above the Mekong River.
The two bridges in Dong Thap Province are named Cao Lanh and Vam Cong, like the names of the two towns.
Australia's grant contribution will help finance the engineering, design and construction supervision of the project, as well as provide a major contribution to the cost of building the Cao Lanh Bridge.
Meanwhile, the construction of the Vam Cong Bridge is supported by the Government of the Republic of Korea through a US$200 million loan agreement signed with the Vietnamese Government.
It is a co-financing effort on the part of the official development partners to Vietnam for this flagship project that is estimated to cost up to US$750 million.
Vietnam's Ministry of Transport is the executing agency for the US$26 million technical assistance grant approved by the Asian Development Bank.
It is expected that the engineering designs and bidding process will be completed within 2012 and construction will start in 2013. The bridges and connecting road are expected to open for public use in 2017.
Once built, the bridges and road will benefit about 170,000 users per day and five million residents of An Giang, Can Tho, and Dong Thap provinces, according to the Australian Embassy.
The bridges and road will also improve transport services across and within the Mekong Delta region by connecting Ho Chi Minh City with other parts of the delta region Australia will invest over five years in a major road transport project in the Mekong Delta – Vietnam's southern food bowl.
In 2000, the My Thuan Bridge over the Tien River in the delta, also built with Australian funding, opened to traffic, connecting Tien Giang and Vinh Long provinces and replacing My Thuan ferry services. The bridge now carries more than 5 million vehicles per year.