In one of the country's deadliest road accidents, a crowded coach smashed through the railings of Srepok Bridge on Highway 14 in central Vietnam and fell into the river at 10.15pm on Thursday, killing 34 people and injuring 27, while enroute from Dak Lak Province to Ho Chi Minh City.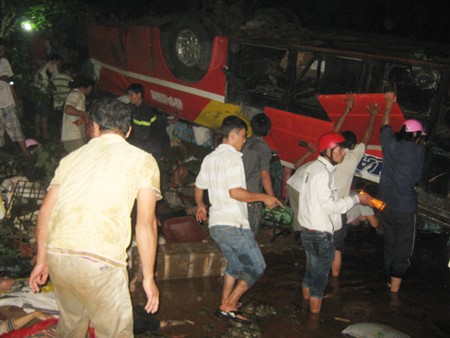 Rescue teams work with local residents to save victims from inside the coach (Photo:SGGP)
According to witness accounts, the accident occurred at 10.15pm when a 50-seater coach, owned by the Quyet Thang Company in Krong Pak District in Dak Lak Province, suddenly swerved and hit the bridge railing in an attempt to avoid two motorcyclists ahead.

On May 18, authorities from Dak Lak Province visited the site and mobilised more people in rescue operations. They also offered families of the dead victims a sum of VND5 million each and VND3 million to each of the injured victims.

The Red Cross Society in Dak Lak Province also offered VND500,000 to each of the injured and VND1 million to families of those who died in the accident.

On the same day, the Vietnam Fatherland Front Central Committee provided VND5 million to families of the dead and VND3 million to each of the injured.

As of now, the People's Committee in the province is working with the National Committee for Traffic Safety to investigate the cause of the accident.

Two drivers of the coach and their assistant are reported to have died on the spot.

According to a representative of Dak Lak General Hospital, most of the 27 injured were admitted with serious injuries, and some were said to be in critical condition.

Nguyen Thanh Duc, chairman of Quyet Thang Company, said that they will provide VND20 million to dead victim's families living in Dak Lak Province and VND30 million to families living outside the province.

A representative of Pjico Insurance Corporation said that they had decided to pay advance compensation of VND25 million to each family of the dead victims.

Prime Minister Nguyen Tan Dung yesterday requested the Ministry of Public Security, the People's Committee in Dak Lak Province and the Ministry of Transport to speed up investigation into the cause of the accident.

He also sent his condolences to families of the victims and asked the province authorities to instruct all relevant agencies to lend maximum support to all involved in the accident.
According to an initial investigation, there were no abnormal signs along the stretch of bridge that could have caused the accident.