The President's Office on Wednesday made public four new laws on residence, vocational training, Vietnamese working abroad, and amendments to the Labor Code.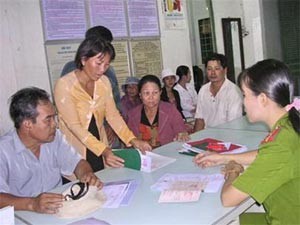 People register ho khau at a police office. Residence register will be simplified under the new Law on Residence.
The Residence Law, which will take effect on July 1, 2007, loosens many regulations on registering ho khau, a residency certificate having existed for many years.
The law rules that "citizens having a legal home to live in a centrally-governed city for at least one year can register ho khau, but the only requirement for this in a province is just a legal home."
The difference aims to limit the number of migrants moving to big cities.

Explaining "a legal home" in a centrally-governed city, Deputy Minister of Public Security Dang Van Hieu said this means a house hired or lent with a written document.
"It means if the house owner does not agree that the tenant or residents in the house would register ho khau, the registration will not be proceeded," he said.
The law also simplifies relevant procedures. Mr. Hieu said these simplifications would save half of the time needed before.
Also good news for inhabitants is they can, under the law, make a phone call to local police officers to tell about their residence when they cannot meet in person.
The law says the Government and its agencies must adjust or abolish regulations related to ho khau that limit citizens' legitimate rights and interest.
A Ministry of Public Security survey shows that there are currently 380 sets of regulations having links with ho khau and many of them really are hindrances to citizens.