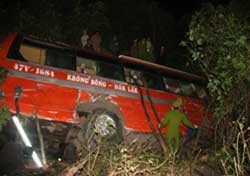 The bus after the accident(Photo: Thanh Nien)
Nearly 50 people had a narrow escape in a major road accident in Binh Dinh Province on Wednesday.
The accident happened around 7pm when a bus with 48 passengers traveling to Da Nang from the Central Highlands collided with a truck coming in the opposite direction. The bus reportedly failed to brake in time.
It plowed into a car with four occupants inside before plunging into a chasm.
Miraculously for such a serious accident, only one person -- Vo Tuong Quoc, 21, son of the bus owner -- was killed.
All the bus and car passengers were injured, 21 of them seriously.
Local authorities immediately gave money to the injured.
Binh Dinh police surveyed the scene of the accident last Thursday and are continuing their investigation.