The 56th Anniversary of Vietnamese Journalists' Association (VJA) (April 21, 1950 - April 21, 2006) was held in Diem Mac Commune, Dinh Hoa district, Thai Nguyen Province on April 22, 2006.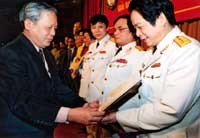 At a Journalism awarding ceremony
Speaking at the ceremony, Standing Vice Chairman of the VJA Le Quoc Trung emphasized that Vietnamese journalists have worked hard to fulfill the role of the Journalists' Association in publicizing the policies of the Communist Party and the Government.
Vietnamese journalists have encouraged and supported patriotism, criticized negative sides of the society, thus contributed to the success of the localities and the country, he added.
The First Congress of the Vietnamese Journalists, held in Thai Nguyen province on April 21, 1950, selected a 10 member executive board. The association approved the regulations and its missions that would contribute to democracy, protect the rights and strengthen the position of journalists.
The Vietnamese Journalists' Association has attracted over 14,500 correspondents and tens of thousands of freelancers writing about news events in the country.