Almost every commune in Vietnam has a medical center and two-thirds of the centers have doctors, the Ministry of Health reported at a meeting it held in Ho Chi Minh City on December 28 to review the past year.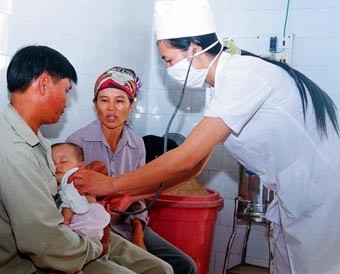 A pediatric nurse takes care of a child patient. According to the Ministry of Health's report, 94% of communes in Vietnam have midwives and pediatric nurses
The report added that 94 percent of communes have midwives or pediatric nurses.
The ministry also said that over 70 percent of the communes provided treatment or diagnosis for those covered by Government health insurance.
But it admitted that epidemics were rife in 2008, especially dengue. There were 81,888 cases, including 89 fatalities, marginally higher than in 2007.
Heart diseases, hypertension, gastrointestinal problems, diabetes, and psychological disorders accounted for 62.5 percent of current diseases.