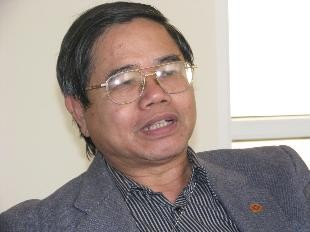 (File) Dr Nguyen Van Bo, one of the seven awardees
Seven leading Vietnamese agriculturalists receive medals from the Crawford Fund, a prestigious Australian organisation, on Mar 17 in recognition of their significant contribution to the capacity development in the agriculture, forestry and fisheries sectors.
The seven awardees that passed very strict selection criteria of the fund are Prof Le Viet Ly, former Vice Director of the National Institute for Animal Sciences; Prof Ha Minh Trung, Vice-President of the Vietnam Gardening Association, former Director of the Plant Protection Research Institute; Prof Cu Xuan Dan, former Rector of Hanoi Agriculture University; Ms. Dao Thi Minh Chau, Head of Department for Ethnics and Religions, Vietnam Women's Union; Dr Le Thanh Luu, Director of Research Institute for Aquaculture No. 1; Prof Le Dinh Kha, former Director of Research Centre for Forest Tree Improvement, the Forest Science Institute of Vietnam; and Dr Nguyen Van Bo, President of Vietnam Academy for Agricultural Sciences.
Mr Allaster Cox, Australian Ambassador to Vietnam, presented the awards to the seven scientists.

"Over the last 15 years, the fund has supported Master Classes and Training Courses for over 600 Vietnamese scientists. This training has included research management master classes and course in fisheries, plant diseases, improved crop production practices and forestry," Crawford Fund chairman John Kerin said in a statement issued by the Australian Embassy that day.

The fund is a non-profit, non-government organisation from Australia, dedicated to raising awareness of the benefits of research to developing countries. The Fund often provides support to training associated with ACIAR funded projects.
ACIAR is the Australian Centre for International Agricultural Research. Dr Bo, the seventh in the awardees, has been a member of the advisory board of organization.