The Ho Chi Minh City Plant Company is harvesting its Cayen pineapple crop of 2006 in Pham Van Hai Commune, Binh Chanh District. With an average productivity of 40 tons per hectare, the company expects to reap 9,600 tons of pineapples. There is a year-on-year increase of ten percent of the fruit's price.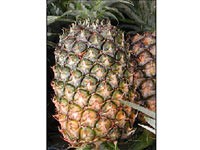 Cayen Pineapple
The Tan Binh Food Exporting Company and Tien Giang Fruit and Vegetables Company contracted to buy pineapples from the Ho Chi Minh plant company to process for export.
For three years, the company has planted 357 hectares of Cayen pineapple, of which 240 hectares are harvested this year. After much research and experiment, it can get 90 percent of pineapples to bear fruit. It also multiplies successfully the strain of Cayen pineapples imported from Thailand, which is of pure variety and disease-free with high yield.