It was 11 pm on Sunday and the festival was about to start at the Tran Kings Temple in Nam Dinh Province.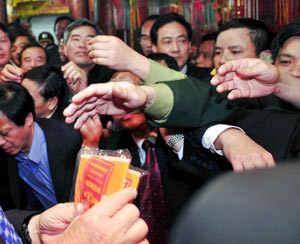 Pilgrims jostle for a piece of royal seals believed to bring career advancements at Tran Kings Temple
People were knocking down the steel barriers, jostling, rushing to get what they believed would bring them wealth and a career advancement.
A woman in her fifties dragged her feet on the ground, sweating profusely, her hands tightly hugging a big wrap – her trophy from the fight.
"There are 600 seals altogether," she said triumphantly.  "I got just a few for myself and the rest for relatives and friends, some of whom live as far away as Ho Chi Minh City."
The woman was luckier than many.  
Thousands of people flocking to what is considered the biggest festival in the north, the Khai An (royal seal opening) festival, went home empty-handed.
On the 14th of the first lunar month every year, pilgrims from all over the country visit the Tran Kings temple to pray for luck and wealth, and buy the royal seals, which are stamped on paper and silk.
The belief about the promotion comes from an old custom. After its first victory over the Chinese invaders in the 13th century, the Tran court is believed to have thrown a party on the 14th of January to celebrate and reward its officials and soldiers.
The party then became an annual event. 
The seals, which used to be distributed free to pilgrims, are now offered for a price.  Paper seals cost VND5,000 a piece and a silk one VND20,000. 
The seals are in such huge demand now that they are not easy to buy. People have to visit the temple in advance to place an order for them.
Many who were not quick enough to get one at this year's festival decided to steal them instead.  
The old temple guards who sold the seals were confused by so many hands reaching out for the royal pieces that they could not tell which ones had handed out money.
"It was just too much," said a man who stood panting outside the temple after being pushed out by the crowd.
Other unlucky pilgrims begged the lucky ones to resell some of the seals to them. 
The desperate ones were contented with buying "fake" seals -- they look exactly like the actual, only they are not sanctified inside the temple.
It was 5 am on Monday. People kept streaming in to ask for seals. The old temple guards shook their heads, showing their empty hands. 
The late pilgrims went away downcast, consoling each other they would be earlier next year. 
Parking fee rip-off

At the two-day festival, pilgrims wanting to park their vehicles were ripped off – it cost VND10,000 to 15,000 for a motorbike and VND50,000 to 100,000 for a car.

This year the Khai An festival attracted 100,000 pilgrims, according to the organizers.