The first-ever major meeting was held on June 15 in the Mekong delta city of Can Tho in response to ASEAN Day of Dengue Fever.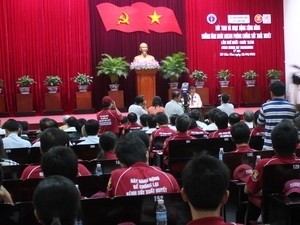 At the ceremony (Photo: VietnamPlus)
Addressing the meeting, Deputy Health Minister Nguyen Ba Thuy emphasized that dengue fever was an issue for the entire community and a heavy economic burden on society.

However, he said, the disease could be prevented by raising awareness of the issue and through authorities, people and the whole community joining in prevention activities.
Dengue fever, a mosquito-transmitted disease, often occurred during the beginning of the rainy season and existed in Cambodia, Laos, the Philippines, Malaysia and Vietnam all year.
The disease could be found in almost 20 southern cities and provinces and in central and Central Highlands areas in Vietnam.
In Vietnam, in 2010, around 125,000 dengue fever cases were reported and 104 people died of the disease. This year the nation had seen more than 15,000 dengue fever patients, 11 of whom have died of the disease, in the first five months.
A similar dengue fever awareness meeting was also held in the central province of Ninh Thuan on the same day.
Many activities were held during the past week in response to the first ASEAN Day of Dengue Fever which was initiated at the ASEAN Health Ministers Meeting in 2010.