The Asian Development Bank said Tuesday it has approved a US$1 billion financial support facility that will help improve clean water access for three million families in Vietnam, including half a million poor households who will receive their own piped water connection for the first time.
The assistance is part of a nearly US$2.8 billion investment program involving ADB, the Government of Vietnam, development partners and water company financiers.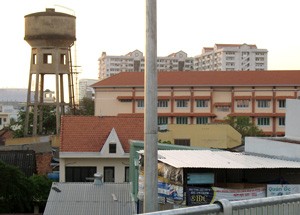 A tap water station (on the left) in Binh Thanh District of Ho Chi Minh City, where the Asian Development Bank is providing US$138 million to carry out a water supply upgrade project (Photo: Tuong Thuy)
The program will help water companies improve and expand clean water supply in some of the country's largest cities through the installation of new pipelines and the repair and extension of existing networks, the bank said in a statement.
In addition to infrastructure improvements, the program will enhance the operational management and commercial viability of water companies, ADB added.
ADB says that at present, four in every ten families living in Vietnam's largest cities are not connected to a central water supply system, and only one in three towns have any form of piped water supply. Many piped water systems in urban areas urgently need upgrades, with as much as 30% to 40% of water lost before it reaches the end consumer, due foremost to leaky pipes. Water loss contributes to intermittent service from low pressure.
"When four out of every ten liters of water is lost before it comes out of the tap, this is essentially pouring cash down the drain," Ayumi Konishi, ADB's Country Director for Vietnam, said in the statement.
"Making an upfront investment to plug the leaks gives consumers a more dependable water supply, enhances public health, and provides water companies with significant cost savings," he added.
One goal of the water investment program is to reduce water loss in urban areas to less than 20% by 2020, bringing Vietnam's cities in line with affluent Asian cities such as Seoul, according to ADB.
ADB is providing US$138 million for the program's first project in Ho Chi Minh City, where many poor households are not yet connected to piped water systems, and are paying almost twice the official water tariff.
"Poor water coverage hits poor families the hardest, and this investment program will benefit these families most," Mr. Konishi said. "When poor families are provided with piped water connections it measurably boosts their income and improves their well-being."
The Ho Chi Minh City project, which will be implemented by the Saigon Water Corporation, will improve pressure and coverage for over half a million city residents, and provide almost 20,000 families with their first household water connections.
The project is expected to increase water availability in Ho Chi Minh City to over 64 million cubic meters per annum over the next decade, according to ADB.
The nationwide water investment program is a cornerstone of Vietnam's efforts to attain 90% piped water coverage by 2020, with universal coverage targeted by 2025.