The Asian Development Bank stated Friday that it has endorsed its new assistance strategy to Viet Nam for the period 2007-2010, including a plan to provide US$3 billion in 2007-2009.
The ADB said the same day it has approved a US$15 million loan to support a multi-donor program to reduce poverty in the country.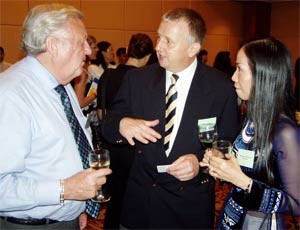 Foreign investors talk about business in Ho Chi Minh City. Foreign direct investment and international donors' capital to Viet Nam have been increasing in recent years. (Photo: Tuong Thuy)
The new ADB strategy follows the Vietnamese Government's Socio Economic Development Plan (SEDP) 2006-2010 approved earlier this year, which envisages the total investment needed for the five years to be US$140-150 billion.
"We very much appreciate that the plan was developed through an open, consultative process. Viet Nam has been successful in reducing poverty through strong growth and we are happy to support the Government's own strategy," Mr. Ayumi Konishi, ADB Country Director for Viet Nam, said in an announcement issued by the ADB's headquarters in the Philippines.
 
The new ADB strategy focuses on business-led, pro-poor economic growth that is supported by social equity, balanced development, and environmental sustainability, according to the statement. The plan also stresses the need to support the improvement of governance and control corruption. Besides, the strategy points out the need to make contributions to regional cooperation whenever possible.
Assistance from the ADB's concessional loan supplier, the Asian Development Fund, is expected to increase to about $300 million a year from the current $220 million.
US$15 million loan
The loan provides this year's ADB support to the Poverty Reduction Support Credit framework, which donors are using to provide financial assistance for Viet Nam between 2002 and 2006. This year, the framework will provide US$210 million to the Government.
Mr. Ayumi Konishi said in another statement, also issued by ADB headquarters, "This framework is hinged on the strong commitment of the donor community to supporting Viet Nam's reform agenda and galvanizing interest for the reform program among stakeholders."
Approval of the loan immediately followed the adoption of the ADB's new assistance strategy to Viet Nam.
Aside from the ADB, the framework is supported by concessional loans from the World Bank (with US$100 million), the Japan Bank for International Cooperation, and Germany (with €6 million).
The State Bank of Viet Nam is the executing agency for the program loan, which will be used until December 2007.
Related link
ADB