The Asian Development Bank (ADB) announced Monday that it is providing a US$25 million loan to support Vietnam's poverty reduction efforts, and a US$25.5 million supplementary financing to an existing emergency assistance loan to help storm victims.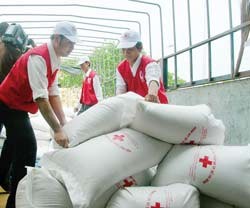 Emergency relief is loaded onto a truck in Ho Chi Minh City earlier this month to support flood victims in the central region late last month (Photo: SGGP)
The $25 million loan aims to help the country carry out policy reforms for its poverty reduction program in cooperation with a number of other development partners.
To this end, the credit provides parallel financing with the World Bank's Poverty Reduction Support Credit (PRSC) 7, within the framework of the PRSC process.
A wide range of policy reforms in the areas of business development, social inclusion, natural resource management, and governance will be supported by the loan.
"The policy reforms will yield considerable economic benefits to Vietnam. They will raise the living standards of the Vietnamese people and reduce poverty by fostering environmentally sustainable and socially inclusive economic growth," Bahodir Ganiev, country economist of ADB's Vietnam Resident Mission, said in an ADB announcement.
In another statement issued the same day, the Manila-based bank said the US$25.5 million supplementary funding is for an existing emergency assistance loan for the rehabilitation of rural infrastructure severely damaged by typhoons and storms in 2005.
The project was initially approved in 2006 by ADB with a loan of $50.97 million. However, high inflation has increased the cost of civil works, materials, and labor. Additional damage to rural infrastructure caused by typhoons in 2006 and 2007 has contributed to significant cost overruns, ADB said.
The bank added that this supplementary financing would ensure completion of the project.
"Without the additional funding, the investments made so far under the project would be at risk – as partially completed structures could be lost or unable to provide their expected protective function," Dennis Ellingson, senior natural resources management specialist of ADB's Southeast Asia Department, said in the announcement.
As of October 2008, more than 40% of the project activities have been completed, according to the bank.
The project is targeting 10 of the most affected provinces – Ha Giang, Ha Tinh, Nam Dinh, Nghe An, Phu Tho, Phu Yen, Quang Binh, Quang Tri, Thanh Hoa, and Yen Bai.
Some 450,000 people are expected to benefit from the project through the restoration of essential infrastructure, including roads, flood protection, irrigation systems, and social infrastructure such as schools and water supply, according to ADB.
Vietnam will also receive a US$500,000 grant from the Republic of Korea e-Asia and Knowledge Partnership Fund to improve disaster preparedness by training staff of the Ministry of Agriculture and Rural Development's Disaster Management Center and the Water Resources University on the use of advanced technology, ADB said.