The Asian Development Bank (ADB) and the Vietnamese Government have signed a US$360 million loan for a project that will help ensure a steady and reliable supply of power in northern Viet Nam.
The loan agreement was inked in Ha Noi on August 22 by ADB's country director for Viet Nam Ayumi Konishi and State Bank of Viet Nam Governor Le Duc Thuy.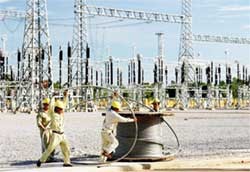 Workers upgrade electricity facilities in Viet Nam (Photo: SGGP)
The loan comes from the bank's ordinary capital resources, and has a 25-year term, including a grace period of five years. Interest is determined in accordance with the London Inter-Bank Offered Rate (LIBOR).
Electricity of Viet Nam Corp. (EVN) is to contribute US$92.7 million to the five-year project, scheduled for completion in June 2010.
The project will expand and upgrade part of the 500 kV and 220 kV transmission systems in the north, and enhance the efficient utilization of existing and new power plants in the region.
In August 2005, ADB lent Viet Nam US$120 million for a similar project also in the north. The project is due to finish in June 2009. EVN is the executing agency for both projects.
Electricity development is always a hot issue for a fast developing Viet Nam. The government plans to double the capacity of existing power plants to 24,000 MW by 2010 to meet the growing electricity demand, which is forecast to rise by about 15% annually until 2010.