The Asian Development Bank (ADB) announced Friday a US $45 million loan for Viet Nam to help address the problems of forest loss and degradation as well as rural poverty in the Central Highlands.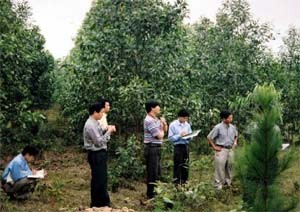 Forestry officials work on an afforestation project in Viet Nam.
The project will support sustainable forest management in the provinces of Dak Lak, Dak Nong, Gia Lai, Kon Tum, Lam Dong and Phu Yen, covering more than three million hectares of forestland.
The project will also increase forestry-based livelihood opportunities to reduce poverty in 60 communes by involving over 80,000 poorer households in sustainable forestry. Commune development funds will be established for small-scale and other livelihood-related infrastructure, the ADB said.
The cost of the project is estimated at US $90.66 million. The ADB's soft loan carries a 32-year term, including a grace period of eight years. The interest rate is 1% a year during the grace period and 1.5% a year afterwards.
The Governments of Finland, the Netherlands, Sweden, and Switzerland will provide US $15.57 million, while the Vietnamese Government and the beneficiaries will shoulder the balance. The Ministry of Agriculture and Rural Development is the executing agency for the project, which is due for completion by the end of 2014.
The Manila-based ADB announced the loan two days after it approved a US $53.2 million for a Viet Nam project in which about 114,000 households in the central region will benefit from improved water supply, sanitation and enhanced community health.
One day earlier, on Tuesday, the bank proclaimed a US $1.7 million technical assistance grant for Viet Nam to prepare a project to build two subways in Ho Chi Minh City, the first ever in the southern metropolis.
Related articles
ADB Loans $53.2 million to Improve Towns' Water Supply, Sanitation

ADB Announces $1.7 million Grant for Planned Subways