The French Development Agency (AFD) pledged yesterday to provide 41 million Euros (US$53.2 million) for Viet Nam to develop its rural areas in 13 central provinces.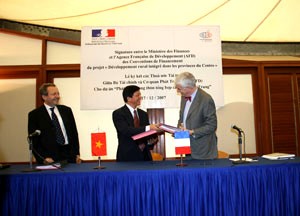 French Ambassador to Vietnam Hervé Bolot (R) and Nguyen Thanh Do (C), Director of the External Finance Department of MOF, exchange the signed documents in Ha Noi yesterday
The aid includes 40 million Euros (US$51.9 million) in credit and 1 million Euros (US$1.3 million) in non-refundable aid.
 
Funds will be allocated through the Ministry of Finance (MOF) and go directly to the provinces.
 
This is part of a project of rural development, worth US$172.2 million, co-financed by the Vietnamese Government, Asian Development Bank and AFD.
The beneficiary provinces comprise Thanh Hoa, Nghe An, Ha Tinh, Quang Binh, Quang Tri, Thua Thien-Hue, Quang Nam, Quang Ngai, Binh Dinh, Phu Yen, Kon Tum, Ninh Thuan and Binh Thuan.
The project aims to reduce poverty and improve living conditions of people in difficult coastal and mountainous areas by improving means of production and speeding up commercialization of agricultural produce, and providing local people with better access to basic services such as clean water supply and sanitation.
The loans also help develop irrigation infrastructure through enhancement of existing primary and secondary irrigation canals and improvement of rural roads and markets in these provinces, and ensure safety for coastal zones by stabilizing sand dunes and preventing the intrusion of salty water.
 
Agreements underscoring the assistance were signed between Hervé Bolot, French Ambassador to Viet Nam, Nguyen Thanh Do, Director of the External Finance Department under the Ministry of Finance and Alain Henry, Director of AFD in Ha Noi.