According to the latest count by the Central Steering Committee for Flood and Storm Protection, Typhoon Xangsane took 52 lives, and left seven people missing and 520 injured.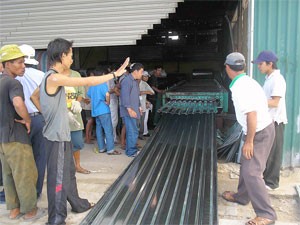 People rush to buy roofing iron to repair their damaged houses

It pulled down or unroofed nearly 260,000 houses, wrecked or damaged 561 boats, and submerged hundreds of hectares of crops and fish ponds, causing total property damage of nearly VND10 trillion (US$625 million).

Donations and other relief for the storm's victims are still pouring into the central region from government agencies, organizations, businesses and individuals.

Ho Chi Minh City's Vietnam Fatherland Front has taken VND2.1 billion from its funds to help the people of Da Nang, Thua Thien-Hue, Quang Nam and Quang Ngai, and the Health Ministry has given VND771 million to prevent any epidemic.

In Da Nang, the hardest hit area, all the schools were damaged but the education department has urged them to resume classes by next Monday at the latest so that the children won't fall behind the Ministry's scheduled curriculum.

Le Thi Huong, director of Da Nang's Finance Department, said the prices of goods, especially food and construction materials, had risen dramatically in the wake of the storm.

In response, the authorities have vowed to come down hard on speculators and will regularly check the markets and shops to make sure there is no price gouging by unprincipled blackguards. Woe betide anyone they catch.