Finding markets for farm produce continued to dominate yesterday's National Assembly question-and-answer session for the Minister of Agriculture and Rural Development, Cao Duc Phat.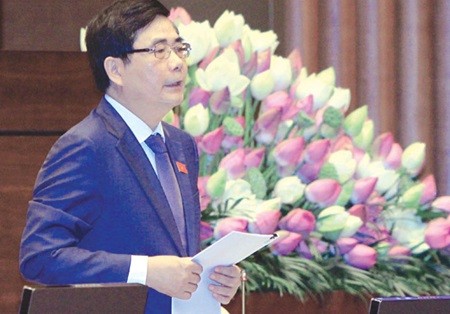 Minister of Agriculture and Rural Development Cao Duc Phat answers questions from National Assembly members. (Photo: VNA/VNS)
Phat was the first of four cabinet members to take part in the three-day session at the ongoing NA general meeting.
Faced with questions from NA members on the struggle to create abundant crops at low prices every year, Phat said famers must not rely on one single market. He said the key was to support farmers to enhance the competitiveness of their products.
He confirmed a commitment to support farmers in credit lending, improved technology in storage and transportation, and support agriculture businesses.
However, Phat agreed that the links between farmers and businesses remained weak. He said large-scale rice field projects in the Mekong Delta were an example of finding ways to create ties.
According to Phat, in 2014, more than 100 businesses participated in building large-scale rice projects spanning an area of 72,000 hectares.
Phat said the weak link between agriculture businesses and farmers was partly due to the limited number of agriculture businesses that had the capacity to link with farmers, suggesting the need to foster stronger co-operatives at the local level.
He said local authorities had not taken strong action to foster business-farmer links, adding that only 10 provinces showed a strong commitment to building large-scale rice projects and integrating such projects into their development plans.
Regarding the implementation of Resolution 67 to support fishermen, Phat said so far fishermen had borrowed VND23 billion (US$1.1 million) to build vessels or revamp them. He said the Government would continue to ensure that farmers could access a loan.
Asked why many farmers had switched to other crops, Phat said that according to Decree 42 issued in 2012 on managing and using rice land stated that only 10,000-15,000 hectares of rice land could be converted to other crops each year.
"Rice planting has always been a legacy of the country but it does not mean farmers cannot grow other things to improve their income," Phat said, but stressing the importance of rice to food security.
Regards to the growing of macadamia nuts, the head of the agriculture sector said there must be careful consideration to avoid mishaps.
NA member Nguyen Ba Thuyen from Lam Dong Province said macadamia nuts were grown in many areas around the country but there had been a lack of instruction from the Agriculture Ministry on growing the trees.
Phat said the demand for macadamia was increasing at about 8 per cent per year, but the rate of increase for supplies could exceed 10 per cent.
His ministry invited experts from Australia who said Viet Nam should only grow 10,000-15,000 hectares of macadamia and avoid expansion to avoid over supply.
NA member Danh Ut from Kien Giang Province expressed concerns on supporting residents in protecting forest.
Minister Phat said his Ministry had submitted a new decree on integrating forest protection with poverty reduction. This, if approved by the Government, could increase the allowance that residents could receive to protect forest to VND400,000 per hectare per year.
NA member Truong Van Vo from Dong Nai Province asked why only 3,400 hectares of forest were re-planted in two years.
Phat admitted that replanting was slow and the Ministry did not make enough efforts to supervise replanting by businesses and local authorities.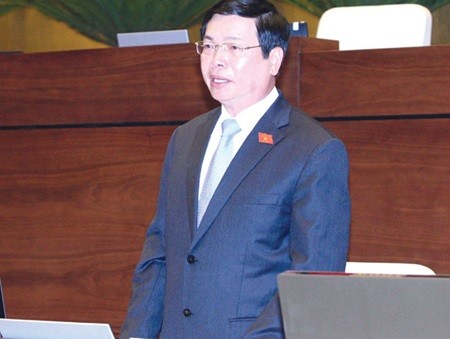 Minister of Industry and Trade Vu Huy Hoang at the NA question and answer session. (Photo: VNA/VNS)
Good signs on lychee
In the afternoon, Trade and Industry Minister Vu Huy Hoang was also grilled on policies to promote the selling of farm products.
NA member Nguyen Si Cuong from Ninh Thuan Province said voters were extremely concerned about how watermelons from farmers in the central region were sold to middlemen for just a few hundred dong (less than US 4 cents) per kilogram while people in Ha Noi had to pay VND18,000-20,000 (about $0.9 cent).
Tran Khac Tam, NA member from Soc Trang Province, said purple onions from Soc Trang had been sold at cheap prices for the past three years.
"The Trade Ministry promised that farmers should be able to benefit from stronger co-operatives and find output markets for purple onions, but how had these activities been done in the past three years?" he said.
Minister Hoang said there had been difficulties exporting farm products due to unforeseen changes in many export markets. However, Viet Nam had signed many free-trade agreements recently, paving the way for more competitive export markets.
Hoang said Indonesia once imported 80,000-100,000 tonnes of purple onions from Viet Nam, but recently it encouraged its own farmers to grow the onions.
Hoang said his Ministry had not forecast the situation but suggested that localities must reassess the growing plan for this product as exports would be more difficult in future.
On the watermelon situation, Hoang said the cost of taking watermelon to markets made the difference in prices.
In a report sent to the NA before the question-in-answer session, the Trade Ministry said one of the keys to sales was to spur domestic consumption. For example, the report estimated that 60 per cent of this year's lychee production of 200,000 tonnes would be sold in the domestic market and 80,000 tonnes exported.
The Trade Ministry has been working with other ministries and localities to sell to domestic consumers and build new channels to export to the United States and Australia.