Recent heavy floods and severe landslides along Vu Gia River in Dai Loc District in the central province of Quang Nam has devastated much of the regions farm produce creating a severe seed shortage.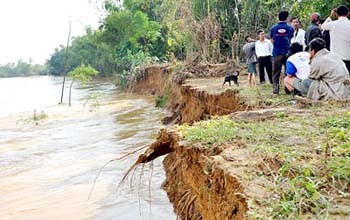 Landslide along Vu Gia River bank in Dai Loc District of Quang Nam Province (Photo: SGGP)
Roads are now littered with rubbish, dried mud and full of potholes, after being submerged for five days under floodwaters.
Bau Tron field, from where Dai An Commune farmers earn VND100 million (US$4,760) per hectare annually, is now full of garbage and sandy soil with all crops completely destroyed.
According to Phan Duc Tinh, deputy chairman of the People's Committee of Dai Loc District, the recent flooding has caused a loss of VND117 billion (US$5.6 million), most being in agriculture production. Farmers now face a shortage of rice and vegetable seeds for the next cultivation.
The district has asked provincial and central authorities to assist with 100 tons of rice seeds and 10 tons of vegetable seeds for cultivating for the winter-spring crop.
Meanwhile, nearly 200 households are in fear that landslides could erode further inland in Dai An Commune with the Vu Gia River already slicing 50 meter inland and sweeping away valuable cultivable land. Landslides are also likely to destroy several houses.
Provincial authorities have instructed for warning sign boards to be put up along landslide prone areas.