One of the battlefields which saw some of the fiercest fighting in the war against the US invaders and site of the famous Cu Chi Tunnels is the in process of transformation. Lining both sides of new asphalt-paved roads are spacious and solid houses amidst vegetable fields, fruit orchards and gardens of orchids and ornamental plants.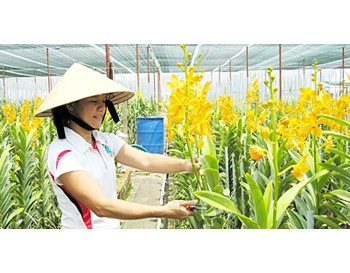 Tran Thi Ngoc Tuyet takes care of her orchid garden worth billions of dong in Cu Chi District, HCMC (Photo: SGGP)
Chairman of Cu Chi District People's Committee Le Minh Tan said that the district has focused on improving the traffic infrastructure system with assistance of local inhabitants.
Specifically, the district's residents have donated VND6.7 billion (US$353,000) and 150 hectares of land, worth VND299 billion (USD16,000), to upgrade the roads.
The district also spent about VND60 billion (US$3 million) to install a high-tension light system stretching over 571 kilometers of roadway. 70 percent of the funds came from district and commune budgets, while the remaining 30 percent was provided by local residents.
In addition, main roads in the district like highways 8 and 15 have also been broadened and upgraded.
 
Improvement of traffic infrastructure has created advantageous conditions for the district to exploit its strengths in agriculture and tourism.
Le Thi Ngo from Trung An Chinh, a commune with a huge potential to develop ecotourism, revealed that her single hectare fruit garden has attracted thousands of visitors in recent months.
To boost agricultural production, the district has shifted 6,100 hectares of land from rice cultivation, which yielded low outputs, to growing fresh vegetables, fruits, ornamental plants and rubber trees, which have produced bigger profit margins.
Cu Chi District now has become the leader in breeding milk cows in HCMC.
Moreover, the district has also created effective specialized production areas for vegetable in Binh My, Nhuan Duc and Trung Lap Ha communes, milk cows in Tan Thanh Dong and An Nhon Tay, crocodiles in Trung Lap Thuong and fish in Tan An Hoi, Trung An and Binh My.
The lives of many residents have improved, thanks to the planting orchids for exports.
Together with the State investment, Cu Chi people have also donated their properties to upgrade 400 kilometers of irrigation channels worth hundred of billion of dong.