State President Truong Tan Sang yesterday underlined the continued importance agricultural production will play in the country's economic development in the next five to ten years.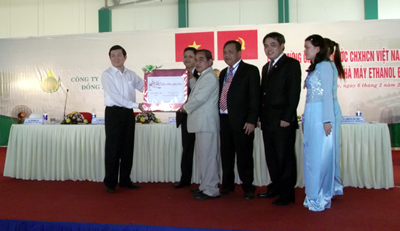 State President Truong Tan Sang ( 1st,L) visits Dai Tan ethanol plant in Quang Nam province
He made this statement at a meeting with leaders of central Quang Nam Province's Dai Loc District.
President Sang said last year, agricultural exports brought the country tens of billions of dollars and with proper financial mechanisms and investment, it will be necessary for local authorities to appreciate the role of farmers in building new models for the countryside and to withdraw bureaucratic policies.
He urged local authorities to outline the content of the countryside's new models to help local people understand what changes will come.
On the same day, President Sang visited the district's Ethanol Factory Dai Tan which is a local leader for investing in bio-energy production. The factory plans to employ hundreds of thousands of local workers.
Sang appreciated the achievements of the factory in applying new technologies to reduce environmental pollution while creating jobs for local people.
On the same day, the President also visited the German Groz Beckert Group, which produces needle variants for its partners in the sewing industry. He stressed that Viet Nam and Germany are strategic partners, so it was necessary for the two sides to support each other toward mutual benefit.
President Sang also visited the Cuu Dai Bridge in the communes of Duy Hai and Duy Nghia in Duy Xuyen district, which will connect tourism areas of Hue City, Da Nang City and Quang Nam Province.
He also paid a visit to 87-year-old Vo Thi Nguyen in Dai Loc District who took part in the country's revolution.