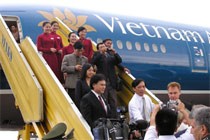 Viet Nam will receive many APEC top leaders in November
The Noi Bai International Airport will install two mobile explosive detectors to detect bombs and mines during the Asia-Pacific Economic Cooperation (APEC) Summit in November.

The airport will also hold a drill in order to be well-prepared in case of bombing threat.
It is expected that Viet Nam will receive around 10,000 officials and their entourages from 21 APEC economies.
Many leaders may arrive in Ha Noi on their own planes landing and staying at Noi Bai Airport during the summit.