The Airport Corporation of Vietnam has recently been established as a result of a merger of the Northern, Central and Southern Airport Corporations, in an effort to provide better infrastructure, efficient operations, and for attracting more tourists and investors.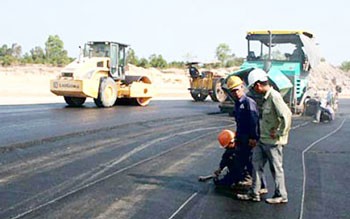 Phu Quoc Airport under construction. (Photo: Sggp)
The establishing of the Airport Corporation of Vietnam aims to support the network of airports across the length and breadth of the country, from the north to the south.
Phu Quoc Airport, over an area of 905 hectares in Duong To Commune of Phu Quoc District in the Mekong delta province of Kien Giang needs VND16.2 trillion (US$810 million) to upgrade its runways, hangars and terminals. About 65 per cent of the works are already complete, but the remaining has been shelved temporarily due to shortage of capital. Once it is supported by the Airport Corporation of Vietnam, all the work will finish sooner.
Da Nang terminal at Da Nang International Airport became operational on December 25 last year, supported by the Airport Corporation of Vietnam.

According to Lai Xuan Thanh, Deputy Head of the Civil Aviation Authority of Vietnam, airports in the central region need technical support, better human resources, more capital and an efficient infrastructure, being a key area for the country's tourism.

Nha Trang City is host to many local and international cultural, sporting and tourism events throughout the year, such as the sea festival, international beauty contests and the International Yacht Race. The city receives a large number of visitors each year. A very active and functional airport will therefore give more easy access to this wonderful beach resort city.

Although Cam Ranh Airport in the central coastal province of Khanh Hoa was upgraded to an international airport status two years back, it is still not serviceable for international flights.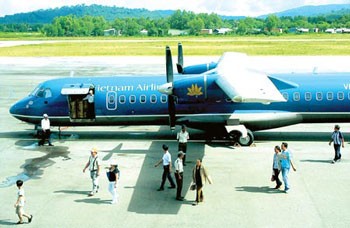 More and more foreign visitors travel to Vietnam by air. (Photo: Sggp)
The airport infrastructure is not yet fully complete and does not meet international standards. Hence, international visitors arrive at Cam Ranh Airport via transit flights from Hanoi and Ho Chi Minh City.

The 750-hectare airport, only 35 kilometres from Nha Trang City, has a long runway that can handle large Boeing and Airbus aircraft in the future.
According to the airport master plan until 2020 with a vision towards 2030, approved by Prime Minister Nguyen Tan Dung in 2007, the airport will provide 32 parking lots, receive as many as 27 aeroplanes during peak hours, welcome some 5.5 million passengers annually and handle 100,000 tonnes of cargo per year.
 
By 2030, the airport is expected to have 37 parking lots and be able to receive as many as 37 planes during peak hours, up to eight million passengers annually and 200,000 tonnes of cargo per year.
Currently the airport receives only 10-20 flights per day.

The merger of the Northern, Central and Southern Airport Corporations having an existing professional and skillful human resource will greatly support regions in development of infrastructure.