Pollution levels are very high in the Cau and Nhue-Day rivers in northern Viet Nam and the Dong Nai River in the south, according to a report by the Ministry of Natural Resources and Environment.
The report was released on Thursday by a ministry that has become increasingly alarmed by the pollution in the nation's waterways.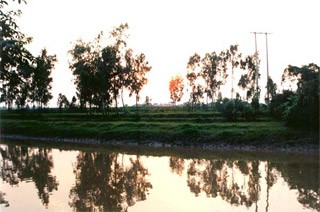 A part of the Nhue-Day River
The River Cau flows through Bac Kan, Thai Nguyen, Vinh Phuc, Bac Ninh, Bac Giang, Hai Duong and Ha Noi and is contaminated by the waste from 800 factories, 200 traditional craft villages and 1,200 medical clinics.
The section in Thai Nguyen is the worst and the brown water gives off an unpleasant odor, to put it mildly. Industrial production is the main cause of the problem.
Perhaps the biggest culprits are the Hoang Van Thu Paper Factory and Thai Nguyen Industrial Park, which discharge toxic waste straight into the river.
Agriculture is another offender since chemicals fertilizers and pesticides run off into the Cau.
Down south, the Dong Nai River is similarly polluted by chemical waste from the many industrial parks and export processing zones in the area as well as fish farms.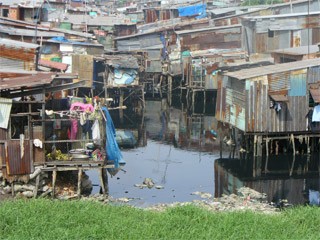 A black river in Ho Chi Minh City is seriously polluted by domestic sewage( Photo:U.Phuong)
Domestic sewage, on the other hand, is the prime contributing factor in the degradation of the Nhue-Day River.
In its report, the ministry appeals for the creation of a substantial legal protection framework, measures based on scientific technologies to improve the condition of the rivers, and the ratcheting up of international environmental cooperation.
The report was built up under a general framework for organizing information about the state of the environment for which the Danish International Development Agency and the World Bank are providing technical and financial assistance.