Ken Mayers, vice president of America's Veterans for Peace Association, handed US$3,600 to the Viet Nam Association for Agent Orange Victims in Ha Noi on Wednesday.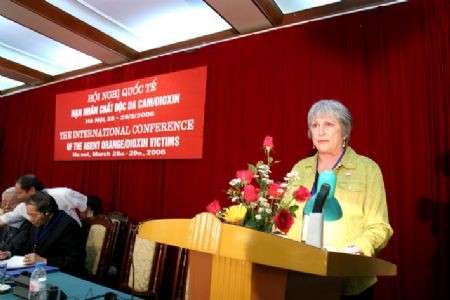 Ms.Duffy speaks at an AO conference
The money came from a collection at the funeral of Veterans for Peace activist Joan A. Duffy Newberry, a US soldier who was exposed to Agent Orange in Viet Nam and died of cancer last November.
Mr. Mayers said his organization wanted to improve the lives of Viet Nam's Agent Orange victims, who were suffering pain just as Joan had.
After her discharge from the army, Joan became an activist for peace and AO victims. In September 2006, the Vietnamese government awarded her the Medal of Peace.
Speaking at the handover ceremony, Viet Nam's representative said the donation demonstrated the friendship that existed between the Vietnamese and American people.