The People's Committee of the southern province of An Giang has asked authorities in Tinh Bien District to prohibit vehicles from travelling to Cam Mountain as there is likelihood of landslides during the rainy season.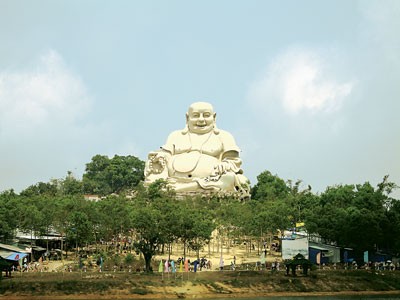 A big Buddha statue on Cam Mountain (Photo: SGGP)
Due to continuous heavy rainfall in recent days, paths to the peak of the mountain have become landslide prone and as many as three spots are already highly susceptible, including Do, Cuu Nan and a hill under Do.

According to the Institute of Geophysics, Cam Mountain has 220 landslide-prone sites along its 2.5 kilometer path up the mountain, and 126 big boulders have become a serious threat.

After authorities issue the ban, transport of essential items to people living on the mountaintop will take place in the early mornings and afternoons.
An Hao Commune authorities will help take children to schools.