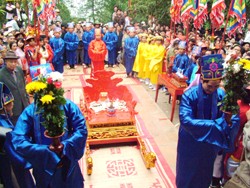 A ceremony at Hung Kings' Temple
The tenth day of the third lunar month has been declared a public holiday throughout Viet Nam to commemorate the death anniversary of the legendary Hung Kings.
Since that day falls on April 26 this year, the normally four-day Liberation Day break has been extended to six days.
According to an announcement from the President's Office, Vietnamese employees are entitled to nine public holidays a year starting in 2007.
The announcement is based on a Government Decision issued on January 31.