A 20-year-old Vietnamese woman was killed by her Korean husband, who had a history of mental instability, last week, just few days after arriving in Korea for marriage. Her body was found at home on July 7, said the Busan Saha Police Station.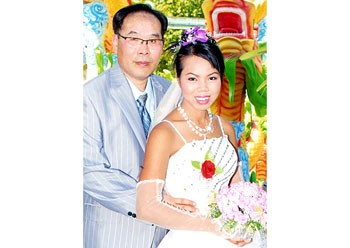 Vietnamese bride Thach Thi Hoang Ngoc and her Korean husband.
The husband, Jang, 47, was arrested and accused of beating and stabbing his wife to death.

The mentally unstable husband told police that he heard the voice of a ghost instruct him to kill his wife.
The couple was introduced through a marriage agency on February 7 and the woman accepted the marriage with Jang the next day despite their age difference.
The marriage took place in Vietnam last February; the woman embarked on a "Korean dream" earlier this month.
The Vietnamese woman arrived in Korea on July 1 at which point her Korean fiancé forbid her from having contact with other people. The woman was unaware his history of mental problems.
Jang turned himself into the police after killing his wife.
Thach Thi Hoang Ngoc, the unlucky woman, was the fourth daughter of a poor family in the Co Do District of Can Tho City in the Mekong Delta.
She came to Ho Chi Minh City as a teenager to do housework to support her parents.
Ngoc suddenly told her family of her plans to marry a Korean man in February. Her wedding was held at a restaurant in HCM City on February 18 with attendance of some relatives who hoped the marriage would provide her with a happy life.
The Korean son-in-law gave the parents-in-law VND3.5 million (US$175) before the weeding ceremony.

The victim's parents, Thach Sang and Truong Thi Ut, became numb upon hearing news of their daughter's murder. They sat mute beside a table with incense smoke spiraling up from a thurible.
"We don't know what to do. We have called her husband's family in Korea but nobody has answered the phone," the father said.
Head of Department for Family & Society of Can Tho City, Nguyen Thi Thu Ha, said that the department sent a proposal to the Women Union of Vietnam to help Ngoc's family go to Korea soon to receive their daughter's remains.
The Entry and Exit Management Department of the Can Tho Foreign Affairs Office gave Thach Sang and his wife a letter of introduction to the Department of Internal Affairs and the Immigration Department of Ministry of Public Security in Ho Chi Minh City to carry out procedures for traveling to Korea.
"The number of Vietnamese women in Co Do District arranged to marry Korean men through matchmaking services is huge. They usually came from poor rural families who hoped to better their lives. I hope the unjust death of Ngoc will disillusion such women from marrying foreign people whom they know nothing about," said Mr. Kim Dong, a public relation officer of Co Do District.